The potential for Information and communication technology to promote effective remote care, even for intensive or sub-intensive cases, is well-known1 and dramatically boosted by the Covid-19 epidemic. For example, the share of remote visits at the Mayo Clinic, an American health provider, rose from 4% before the pandemic to 85% at the peak2.
The Cure2Children Foundation has extensively applied a cloud-based platform for co-management of children undergoing bone marrow transplantation (BMT) in the Indian subcontinent3. BMT is a procedure often requiring prolonged sub-intensive care. Since 2008 close to 700 transplants have been performed, primarily in low-risk patients with hemoglobinopathies by local physicians and nurses who initially had no or little previous BMT experience, but were assisted by daily online interactions with condition-specific BMT experts4. The IT system employed provided several tools including pre-transplant check lists, electronic medical record, automatic patient-specific treatment plans, continuing quality improvement tools (drug and transfusion administration tracking, incident reporting, clinical practice guidelines, standard operating procedures, and real-time outcome analysis), inventory and cost monitoring3. Outcomes were not substantially different from those reported in high-resource settings in a comparable patient group5. This experience has provided the basis for a recent position paper on the setting up and sustaining blood and marrow transplant services for children in middle-income economies by the Pediatric Diseases Working Party - European Blood and Marrow.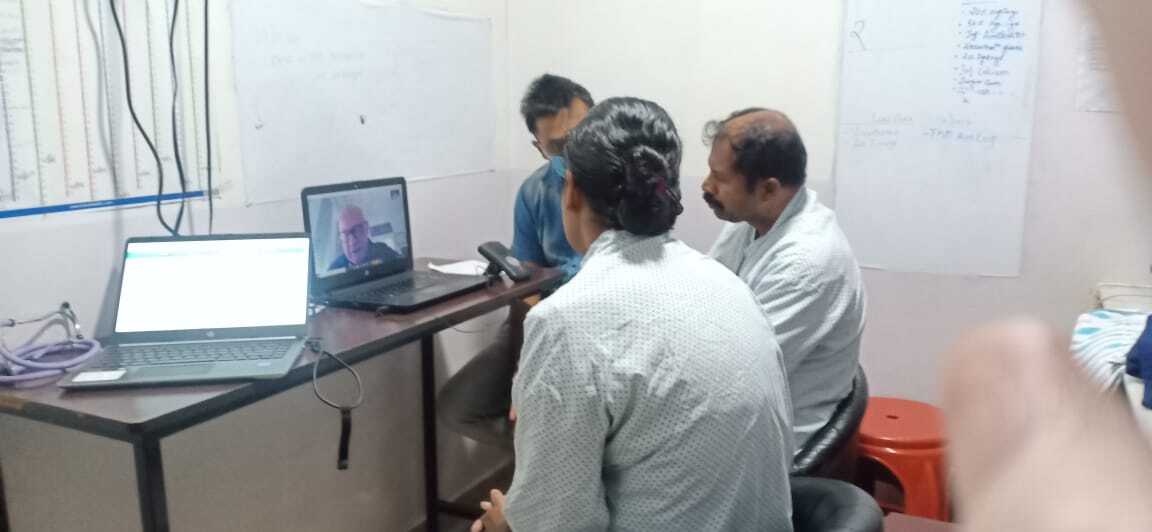 Transplantation Group6. At C2C we believe that in units taking care of complicated patients with a limited number of disorders and treatment protocols, which are thus amenable to focused training, professionally trained and properly supported nurses, along with junior doctors, can provide adequate care with online support from experienced physicians. The obvious consequence of this is the possible huge expansion of a flexible workforce of remote consultants with condition-specific expertise. This approach not only has potential to build huge and unprecedented expertise, but may also have substantial cost-containment implications. Data centralization offered by a cloud-based IT platform will allow quick access for analysis, centralized protocols, and procedures and, most importantly, coordinated allocation of resources, real-time reliable medical data and well-designed clinical studies.
References
Udeh C, Udeh B, Rahman N, Canfield C, Campbell J, Hata JS. Telemedicine/Virtual ICU: Where Are We and Where Are We Going? Methodist DeBakey Cardiovasc J 2018;14(2):126–33.
The digital surge in health care. The Economist [Internet] 2020 [cited 2020 Dec 6];Available from: https://www.economist.com/leaders/2020/12/05/the-digital-surge-in-health-care
Agarwal RK, Sedai A, Dhimal S, et al. A prospective international cooperative information technology platform built using open-source tools for improving the access to and safety of bone marrow transplantation in low- and middle-income countries. J Am Med Inform Assoc JAMIA 2014;21(6):1125–8.
Faulkner LB, Uderzo C, Masera G. International cooperation for the cure and prevention of severe hemoglobinopathies. J Pediatr Hematol Oncol 2013;35(6):419–23. 5. Faulkner L, Uderzo C, Khalid S, et al. ATG vs. thiotepa with busulfan and cyclophosphamide in matched-related bone marrow transplantation for thalassemia. Blood Adv 2017;1(13):792–801.
Faulkner L, Verna M, Rovelli A, et al. Setting up and sustaining blood and marrow transplant services for children in middle-income economies: an experience-driven position paper on behalf of the EBMT PDWP. Bone Marrow Transplant 2020;1–8.