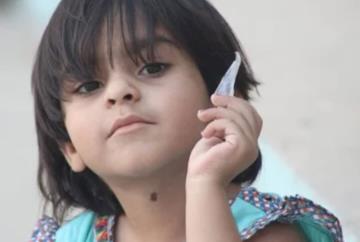 Rameen
Rameen's history
Rameen was born in May 2015 and since birth her health has continued to deteriorate and within two months she became very pale and feverish. We visited the Combined Military Hospital (CMH) in Rawalpindi and after the investigation in Rameen was diagnosed with thalassemia.
The doctors told us that she will have regular blood transfusions. She was our first child and of course it was very painful for us to see her suffer. We also consulted other doctors, but the diagnosis was the same. She had her first blood transfusion at the age of three months, which continued every 25 days.
It was very difficult for us because we lived in Dera Ghazi Khan and there was no proper blood transfusion center and we had to transfuse our daughter at home. We were unable to afford adequate hospitalization as well. We were having trouble finding and fixing blood.
We looked for bone marrow transplant in Pakistan and visited the AFBMTC. They referred us to Dr Akbar Niazi Teaching Hospital, Bhara Kahu Islamabad. We visited the hospital and registered our son. They took HLA samples from the whole family. Within weeks we were informed that Rameen has 100% HLA compatibility with her mother. In the meantime we also visited the BMT in ANTH and we were satisfied with it. Then in 2020 Covid-19 hit Pakistan and we had to wait 6 months. Later in the year we were called for preliminary work for BMT.
We also asked for financial support from the Punjab government. Rameen was hospitalized in October 2020. Chemotherapy was started. It was a difficult time for us and for our little girl.
Chemotherapy itself is not easy and Rameen was having difficulty treating her central venous line as well. Her transplant was performed in November 2020 and everything went well. After 20 days of transplant, her engraftment status was checked and we were informed that Rameen's transplant was successful.
We cannot explain our happiness in words. By the grace of God, our daughter had a successful transplant without complications. You no longer need to have monthly transfusions.
We are grateful to the Cure2Children Foundation and ANTH Islamabad's BMT team. Without their courage and support this would not be possible. Muhammed Shakeel father of Rameen