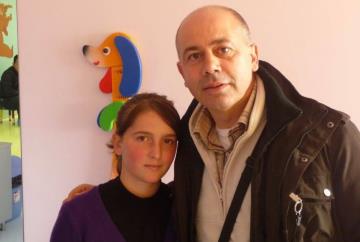 Samire
Samire's history
It's been seven years since I first saw Dr. Faulkner enter my room at the Pristina hospital.
I was 14, it was 2007, and I was suffering from leukemia. I was very confused, because the word leukemia in Pristina - Kosovo, meant to die, if you did not have the possibility to go to treatment in Western countries. In those months, the Cure2Children Foundation arrived at the hospital where I was hospitalized, with Dr. Faulkner and Roberto Valerio, who took care of me and the other children, sick like me.
In fact, I immediately realized that Dr. Faulkner and the other operators of Cure2Children would have treated me directly in Pristina, together with the local doctors. They immediately began to give me the necessary treatments.
After a few weeks, I remember having insistently told the doctors at the hospital that Dr. Faulkner, on his return to Pristina, would surely find me better.
Regarding that period, I remember the smile of my family, full of pain, but also of hope; I remember the assistance of Leonora Bajraktari, official referent of Cure2Children in Kosovo, who did her utmost to make us experience the hospital with various kinds of initiatives, such as celebrating birthdays or organized trips to playgrounds which, after the war, had just been made. Leonora still continues today to carry out this precious work of support to small hospitalized patients and help to families.
I always meet and help you very willingly. Samire never misses the chance to meet the Cure2Children staff today when she returns to visit hospitalized children. You always move me to see the doctors and operators of the Foundation, who go to work together with our local doctors and nurses to try to save sick children like I was.
Today I am 22 years old, I study psychology at the University of Pristina. My most important dream is to visit Italy. I owe a lot to that land and to Cure2Children, who saved my life. I would very much like to embrace all those people, who are still committed to saving the lives of many other children who, like me, are in danger of being lost due to the lack of medical care, drugs and adequate equipment. Pristina - Kosovo 30 November 2015 (in the photo Samire today)